Currently we have delivery problems with email addresses from Microsoft!
This affects all email addresses @outlook, @hotmail, @msn and @live (in all constellations .de/.com/.at/...).
If you are waiting for an activation mail, please create a ticket in our
ticket system
that the activation will be done manually.
License Agreement

Supported version of OMSI

OMSI v2.x

Recommended version of OMSI

Current v2.3.x

Prerequisite commercial expansions

- Nothing -
Auch wenn nun sah, dass es bereits ein Repaint von NickNick gibt ... hier dennoch meine Scania-Repaints (wenn sie doch eh schon gemacht sind).
Der ALU-Download enthält die zwei Repaints für die Updated Version von Alheim Laurenzbach - AVG und Stadtwerke Laurenzbach.
Für die Funktion der LAWO Innenanzeige bitte die beiliegende readme beachten!
Als zweiten Download packe ich noch die alte Alheim Laurenzbach-Verison dazu, die ich vor Ewigkeiten mal irgendwo in den Untiefen des OMIS-Forums verlinkt hatte. Hier gibt's dann auch den DB Rheinlandbus, der auch in Updated-Version genutzt werden kann.
PS: Beim AVG-Repaint sind die Kameras an den hinteren Türen gelb statt grau. Die Farbe kommt wahrscheinlich aus dem vorderen Dachbereich - kann ich also nicht ändern.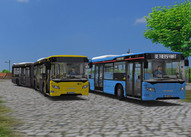 Hier die alten Scania Repaints für Alheim Laurenzbach: AVG, Stadtwerke Laurenzbach und DB Rheinlandbus.




LAWO hatte ich damals nicht angepasst - wer will kann sich ja die Innenanzeigen aus der neuen Version reinbasteln.

Die Scania Repaints für die aktuelle Alheim Laurenbach Updated-Karte: AVG und Stadtwerke Laurenzbach