DE:
Ein kleines, aber dennoch umfangreiches IBIS-Gerät mit einer simplen Nutzer-Oberfläche, angedacht als direkter IBIS2-Ersatz. Zum Einbau in diverse Busse.
Funktionen:
Linien- und Suffixeingabe getrennt, bis zu vierstellige Liniennummern sind möglich (je nach verbauter Matrix)
Ziel- und Routeneingabe sowohl über Liste als auch über Code-Eingabe
Haltestellenliste
automatische Ansagen (bei aktiviertem Fahrplan)
Ansagen können abgebrochen werden
Sonderansagen über Hofdatei
Haltestellen-gesteuerter Zielwechsel über Hofdatei
kompatibel zu den meisten IBIS2-basierten/kompatiblen IBIS-Geräten
Ansteuerungen für drei Innenanzeigen: Standard (ein-/zweizeilig, z.B. SD202), Morpheus(Citaro v5/Citaro FL v2) und Chrizzly(MAN-Stadtbusfamilie)
Einbauanleitungen für die Morpheus-Citaros sowie die MAN-Stadtbusfamilie/NG312 liegen bei, ebenso die dazugehörigen Modelldateien.
Eine Blender-Datei für den Einbau in andere Busse liegt ebenfalls bei, ebenso eine Dokumentation über die Handhabung der Spezialfunktionen (Sonderansagen, Haltestellen-Abhängiger Zielwechsel).
Kurzanleitung Sonderansagen (Post #123)
---
EN:
A small, yet powerful IBIS device with a simple user interface, mainly designed as a direct replacement for IBIS2.
Features:
Line and suffix input separated, up to 4-digit line numbers possible (if matrix display supports that)
Destination and route input vie list or code
stop list
automatic announcements (if schedule is active)
announcements can be terminated
special announcements via hof file
destination code changeable per stop in hof file
compatible to most IBIS2-based systems
three scripts to control common passenger displays: standard (e.g. SD202), Morpheus (Citaro v5/Citaro FL v2), Chrizzly (MAN citybus family)
Instructions on how to install it and documentation are also included in the archive, those have yet to be translated to english...
.blend and .pdn files are included as well.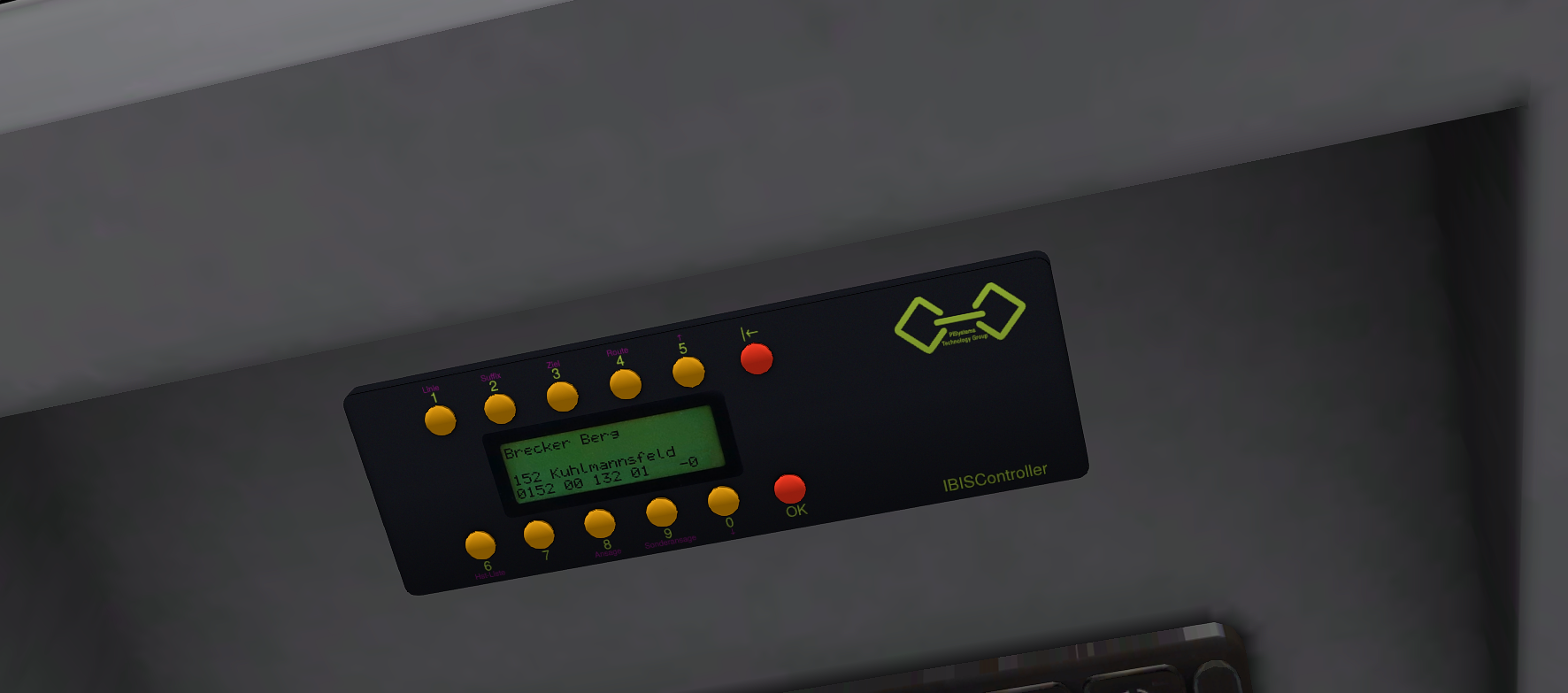 DE:

-Ansagenlautstärke kann nun über den IBISController geändert (oder auch komplett stummgeschalten) werden (wenn eingebaut)

---




EN:

-announcement volume can no be changed (or completely muted) via IBISController (if inserted in bus)

-added english manual for IBISController (finally!)

-Bugfix: Beim Durchschalten der Zielliste werden Zielcodes mit mehr als drei Stellen (Wechselziele) nun korrekt angezeigt

-Änderung der Haltestellen-Darstellung bei den Morpheus-Innenanzeigen (String 1 und String 2 werden nun in einer Zeile angezeigt)




-Neue Modelle für Busse (allerdings ohne dedizierte Einbauanleitung):

*Solaris Urbino 3. Generation

*NEOMAN Overhaul/MAN Lion's City von V3D